NST Proceeding (E-ISSN 2622-9692) supports regional research communities to globalise their findings in Science and Technology by providing an open access, online platform in line with international publishing standards and indexing scholarly conference proceedings.
The current emphasis of the NST Proceeding includes (but is not limited to) the following areas: Life Science, Mathematics, Eductation, Social Science, Medicinal Science and etc.
All conference papers published on the NST Proceeding are fully Open Access. Open Access publications are freely and permanently available online to any reader, anywhere in the world without subscription to the publications in which these articles are published.
Unrestricted use, distribution, and reproduction in any medium are permitted, provided the author/editor is properly attributed.
NST Proceeding will provide high-quality peer review by scientific comittee and proofreading service by native speaker to make sure the language quality. We are the best in rapid publication processes for the open access content, maximum visibility and all-time availability for the published articles, citation tracking and indexing in a variety of databases.
2020: Seminar Nasional Magister Agroteknologi Fakultas Pertanian UPN "Veteran" Jawa Timur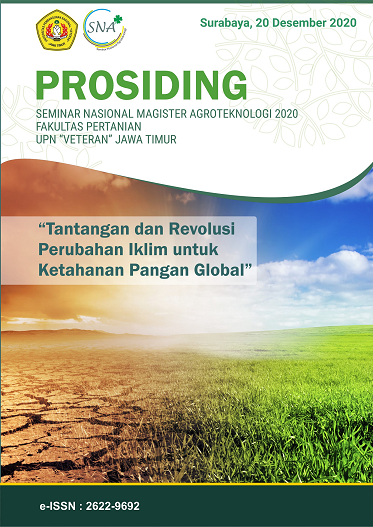 Kegiatan Seminar Nasional PS Magister Agroteknologi FP-UPNVJT dimaksudkan untuk mengeksplorasi informasi terbaru atas hasil-hasil penelitian yang berkaitan dengan perubahan iklim dan dampak negatif (tantangan) serta upaya penyelesaiannya untuk ketahanan pangan global. Sehingga diperoleh suatu strategi efektif yang dapat diimplementasikan di seluruh negara dengan memperhatikan kemungkinan kerusakan terkecil terhadap lingkungan yang selanjutnya dikenal dengan "Revolusi Perubahan Iklim". Adapun tujuan Seminar Nasional PS Magister Agroteknologi FP-UPNVJT adalah :
a. Sebagai wadah dan wahana dialog interaktif beberapa komunitas yang menekuni bidang perubahan iklim, lingkungan, dan pertanian.
b. Mendiskusikan dan mengkomunikasikan hasil penelitian terkait perubahan iklim terhadap tanaman pangan sehingga terwujud suatu keadaan yang memenuhi kebutuhan pangan (ketahanan pangan) global.
c. Menyebarluaskan (diseminasi) hasil penelitian dan pengetahuan tentang perubahan iklim di bidang pertanian.
d. Terjalinnya jaringan informasi lintas sektoral (praktisi, akademisi, pengusaha, dan pemerhati) dalam mewujudkan ketahanan pangan secara global.
Pelaksanaan Seminar : 29 September 2020
Informasi lengkap seminar: http://semnasagt-ma.upnjatim.ac.id/
Published: 2020-12-20
View All Issues